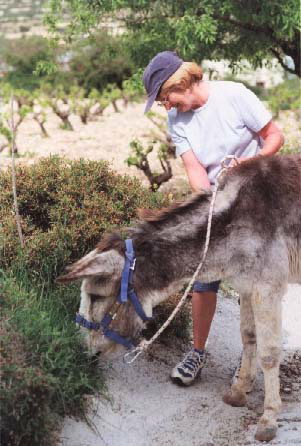 This donkey has no doubts about where he is well off. Like many others here, he is a retired working donkey. Now he gets good food, light exercise, regular care for his feet and teeth, and professional health care.

Today there are more than 100 donkeys in the care of the Cyprus Donkey Sanctuary at Vouni village in the Limassol district. They are large, small, young, old, gray, white or brown... but they all have one thing in common, they are no longer wanted. Machines have largely replaced them in the fields and vineyards, or, their owners are too elderly to look after them any more. Our donkeys are collected or brought to us from villages all over Cyprus.

As well as looking after the animals at the Vouni sanctuary, our project "Outreach Programme", goes to villages where there are working donkeys. On a selected day, the donkeys are gathered and with our mobile clinic we provide vaccinations, medication for worms and parasites, treatment for feet and teeth, a general medical examination, medication and advice. Every owner receives an illustrated bulletin showing how to look after donkeys in the best way.

We are a registered charitable association, Number 1649. Most of our income comes from visitors and private donations. We appreciate all help, small and large, and if you would like to contribute something, or get in touch with us, please fill the form below...
To read more about the Donkeys click here

WAYS IN WHICH YOU CAN HELP

FRIEND FOR A YEAR ................................. St£8,00 US$15,00

ADOPT A DONKEY FOR ONE YEAR ....... St£8,00 US$15,00

FRIEND FOR LIFE ......................................St£60,00 US$100,00

EXCLUSIVE SPECIAL CARER FOR YOUR SELECTED DONKEY...........................................................St£180 US$300,00 per year

All Friends and Adopters receive our twice yearly Newsletter and other information. Thousands of people come to see us every year – YOU WILL BE VERY WELCOME!
| | |
| --- | --- |
| First name | |
| Last name | |
| Title | |
| Street address | |
| Address (cont.) | |
| City | |
| State/Province | |
| Zip/Postal code | |
| Country | |
| Home Phone | |
| FAX | |
| E-mail | |
| URL | |
Please choose one of the following options : We will send you details of all our adoption and sponsor plans , donations of whatever size are warmly appreciated and enable us to continue and improve our work for the Cyprus donkey.

Please note:
Annual Membership is £8.00 Sterling and US$15
Life Membership is £60 and US$100
If you contribute from either of these countries we will bill you accordingly. Thank you.

You may also purchase from here "Patrick Skinner's Cyprus Kitchen" priced at C£7 + pp which is also helping to finance the donkeys. If you wish to order a copy please mark yes below.
Yes - Send me a copy
This space is for your comments or suggestions:


Press submit only once, and wait for up to 2 minutes while the machinery grinds

. Thank you for your support.
To visit the Vouni sanctuary, use this diagram. We are OPEN from 10a.m. to 4.00 p.m. from MONDAY to SATURDAY (Closed on SUNDAY). At our visit centre, we have drinks and refreshments, a good selection of quality gifts, clothing, books, wine, souvenirs, greetings cards and notelets and lots more. Admission is Cy£1,00. Children under 12, Members and Adopters are FREE.