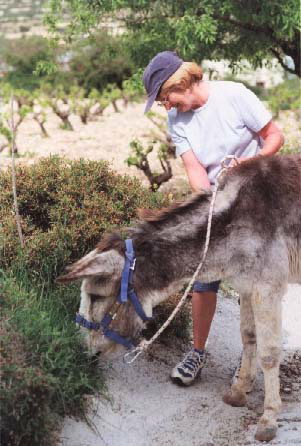 This donkey has no doubts about where he is well off. Like many others here, he is a retired working donkey. Now he gets good food, light exercise, regular care for his feet and teeth, and professional health care.

Today there are more than 100 donkeys in the care of the Cyprus Donkey Sanctuary at Vouni village in the Limassol district. They are large, small, young, old, gray, white or brown... but they all have one thing in common, they are no longer wanted. Machines have largely replaced them in the fields and vineyards, or, their owners are too elderly to look after them any more. Our donkeys are collected or brought to us from villages all over Cyprus.

As well as looking after the animals at the Vouni sanctuary, our project "Outreach Programme", goes to villages where there are working donkeys. On a selected day, the donkeys are gathered and with our mobile clinic we provide vaccinations, medication for worms and parasites, treatment for feet and teeth, a general medical examination, medication and advice. Every owner receives an illustrated bulletin showing how to look after donkeys in the best way.

We are a registered charitable association, Number 1649. Most of our income comes from visitors and private donations. We appreciate all help, small and large, and if you would like to contribute something, or get in touch with us, please fill the form below...
To read more about the Donkeys click here

2018 Update.

The sanctuary was ' sold' in 2007.

You can no longer visit the visitors centre.

It was taken over by a British donkey charity.

You can it seems take a donkey trek however and adopt a donkey.

nuf said.
Form removed.

Actually not enough said

The Donkey Sanctuary Salaries in the United Kingdom.

Salary estimated from 287 employees, users, and past and present job advertisements on Indeed in the past 36 months. Last updated: 09 February 2018
Ł35,100 per year for Community Service Officer

https://www.indeed.co.uk/cmp/The-Donkey-Sanctuary/salaries


----- Old information. --------
To visit the Vouni sanctuary, use this diagram. We are OPEN from 10a.m. to 4.00 p.m. from MONDAY to SATURDAY (Closed on SUNDAY). At our visit centre, we have drinks and refreshments, a good selection of quality gifts, clothing, books, wine, souvenirs, greetings cards and notelets and lots more. Admission is CyŁ1,00. Children under 12, Members and Adopters are FREE.