As we have said before, Larnaca is a strange mixture of ancient and modern. It really depends on what your tastes are. And ancient is no exaggeration. Larnaca is supposed to have been around since just after the days of the flood. Yes, Noah's flood. In fact his grandson is said to have founded the first city of Larnaca and his name was Kitim.

The friendly name for Larnaca amongst the locals is Skalla, which means ladder or steps. Now if you drive out to Tekke, (pronounced tek-eh ) which is a must visit as not only is it a lovely place it is also the 7th most holy shrine of the Muslim world as it is the place where Mohamed's Aunt fell off a donkey and broke her pellucid neck. Until this day a large stone hovers over the spot. A low wall has been built under it just in case it should fall, which is unlikely as there is a wall under it. Anyway, now that you have driven out there, carry on the dirt track which goes along beside the salt lake and after about 500m on the right you will see a wide set of steps from nowhere leading to, nowhere. We think that these steps (not necessarily the same ones) are the old steps down to the water in what once would have been the port in ancient times.

On this side of Larnaca you will find the villages of Kiti, Pervolia and Mazotos, which have over recent years grown inexorably and have plenty of private self catering accommodation to choose from. These are coastal, whilst further inland is the rural village of Ayia Anna with its land coloured stone buildings and Agrotourism flavour.

If you want something racier, then on the other side of Larnaca along what we call 'the strip ' the road running from Larnaca to Dhekelia, there are many hotels and apartments which cater especially for tourists, and it is only a short taxi ride from the town centre. This is where you will find an abundance of bars and restaurants and other touristenalia. On this side you will find the 5 * Golden Bay hotel and the self proclaimed 'Jewel of Cyprus' aka The Palm Beach hotel which is a beach side 4* with decent facilities. For something cheaper but no less welcoming these Larnaca apartments Lysithea are opposite the best beach, have a very pleasant pool area and are excellent value with reasonably sized apartments all facing in towards the pool and garden. There are too many hotels in the Larnaca area to mention here, but here is the full selection of hotels in Larnaka whilst the self catering options of both apartments and villas can be seen at Cyprus villas
The Agrotourism options are not many for the coastal areas and Larnaca is no exception. Apart from the fact that they have knocked down most of the lovely old colonial houses in Larnaca now (Oh so short sighted) there never was much in the way of stone built cottages by the sea. No one had the leisure time in those days to live in a place that was not primarily agricultural, although a few very small deserted one room hovels can still be seen along the coast..

We personally think that Larnaca is an interesting town, not only for its sights, but we like the pace and the people. It has grown incredibly in the last 30 years, with what were once outlying villages becoming suburbs. Most of the accommodation options are on the seafront and in the main town itself, but there are a couple of central, reasonably priced Hotels and Apartment in Larnaca town , the one below is especially good on stop overs from Larnaca Airport (they pick you up from the Airport), they also have good long term deals for 1 month or more.

The Larnaca Youth Hostel was a good bet if you can get in, they do family rooms and are no longer restricted to the young only.
Why not stay at the

Cheap and Cheerful Hotel

In a quiet area of Larnaca, convenient for all the mainstream facilities and the beach.
This is a 62 room family run Hotel and apartment complex which would be very pleased to welcome you to
our town. Whether a transit passenger, a holiday maker or a long term winter visitor they can offer you a sunny outlook from your apartment or studio, an
interesting vista from your balcony, a lift to get you there, Direct phones, 24 hr service, Air conditioning, central heating, en-suite bathroom, exchange facilities, bar,
kitchenette, (in self-catering apartments) car parking and car reservation facility, safe box, only 7 minutes walk to
the beach , all at very reasonable rates. And if that's not enough, the breeze here is great in the summer, they have a small but pleasant outdoor pool, a gym and games room, it's quiet at night and they will provide a complimentary car to bring you directly from Larnaca Airport. By the way , they also cater for the disabled.

Look at; Cyprus Hotels in Larnaka for details and reservations.

To see our Winter Special Offers for the readers of Window on Cyprus.


The above is a family hotel offering decent value for money and convenience near the centre of town, It is clean, friendly and central. It is however not primarily a tourist hotel, be prepared to meet travelling salesmen from the Middle East, Hopeful Russian business men, Lebanese , Syrians and a myriad of interesting characters. Here are some pictures.
There is a very good special offer for long term winter or summer stays of 1 month or more.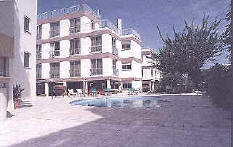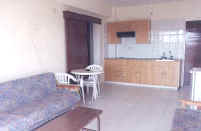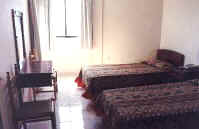 Youth Hostel in Larnaca

Contrary to popular opinion they are not just open to young people. They have family rooms for couples, kitchen facilities available and only cost about 12 Euros per night per person.

If you do not have a youth hostels card, you will be issued with a guest card, which will enable you to use the facilities of these wonderful places in Cyprus.

No - seems the youth hostel has closed!

If you need cheap and cheerful just let us know with your dated and number here, we will do our best.
For more on where to stay, why not fill in our holiday in Cyprus

online form and tell us what you want, we'll do the rest.