Special Offers

Winter in Cyprus

A different concept and definitely warmer weather.
It is almost cheaper to come to Cyprus for the winter and stay in an apartment. In fact that is what many pensioners do, a three month holiday without heating bills. We welcome visitors from Sweden, the UK, Eire and many of the cooler Northern countries. This of course means that winter activities are set up for these visitors with early evening dances, bingo and other senior activities.
Stay at a self catering apartment in Larnaca
With central heating
Linen change twice a week
Friendly staff and service
Special monthly rates available for stays of 2 plus months (Nov-March 31st)
For details of this superb offer, which is only available through Window on Cyprus
This is an exterior picture of one of the apartments and pool we have used in the past.
Each had a bedroom with twin beds, air conditioning (optional at 5 euros extra per day)
a nice bathroom, kitchenette, and living room, which can accommodate extra people on sofas which turn into beds at night.
The facilities often include a swimming pool, games room, lifts, bar, restaurant, communal lounge and parking. We tend to find new places each year, and this offer only applies in the winter
Click Here to enquire further.
For other special winter stay special offers and cheap flights from most destinations, check special offers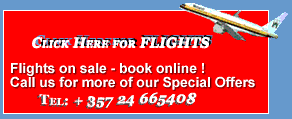 Flights are into Larnaca international airport and also Paphos airport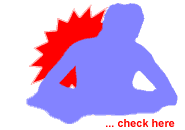 For Cyprus hotels special offers
For Cyprus Villas special offers

There is now a ferry from Italy running on a weekly basis throughout the year.

Vote for us in the top Cyprus Sites and see the other Cyprus and Cypriot sites.