Contents of Sailing news


Click to descend

08.06.05
Here we are again, still waiting. Last year we all had to pay the marina fees by the month because the takeover was
' imminent'
We ask you guys who have say and sway over the peice of land next to the marina... Please let us make it into a skateboard and skating area for the kids .... 10 to 18 do not have anything to do that is not expensive or pub based.
16.11.00
As tends to happen in the confines of a small community, the story below of the building of four new marinas on the Island has still not come into fruition. In fact it appears more likely that Larnaca Marina is going to privatised than another one be built. We'll keep you posted. See below for more on that breaking story.
03.07.98
Four new marinas will be built in Cyprus— in Limassol, Paphos, Ayia Napa and Protaras — these are expected to be privately built, while two existing marinas — in Larnaca and at the Limassol Sheraton — will be privatized. That is the news as of 02.07.98
Very welcome news for all of those yachts which have trouble finding a decent berth in their favourite wintering hole...Cyprus.
"Too many gin palaces and status symbols are turning a great little community into a car park" said one long term resident "This is just what is needed, room for us all"
The Way We Were (The Cranes Then and Now)
For those of you who remember the shenanigans that went on between the blue and the yellow cranes in the summer of '98 will be pleased to know that all has ended in perfect harmony. (Or seemingly!) Now, when your boat is lifted in or out of the water both the Yellow and the Blue corner ( as they were then affectionately known ) work together. Not a spectacular concept for those who did not witness the goings on of '98 but imagine if you will Mr Bush or Mr Gore curtailing to the other and saying " no, no I think you should be the President ," and you'll be some way towards understanding the enormity of this turn of events. Well done boys !
The Clubhouse in Larnaca Marina for Cyprus Offshore Yacht Club

The Clubhouse in Larnaca Marina, commonly known to all as the 'Yacht Club' is already establishing it's winter routine with the Thursday night nosh followed by the Yachties Quiz proving to be as popular as ever. More is promised as the season progresses and we will keep you posted.

For membership details, send a message in a bottle to PO Box 828 Larnaca, Cyprus.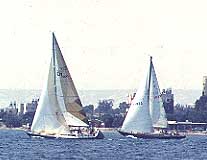 Larnaca Seashore

Bravo to Glafkos Cariolou the Director of Larnaca Marina, who has this week taken Nicos Rolandis, the Minister for Commerce over the privatisation of our village, Larnaca Marina.
The powers that be seem to want to privatise because it doesn't make a profit. Glafkos pointed out that the Marina's income this year will exceed £480,000 and after the expenses of running the place (£130,000 including the 19 salaries) it will show a surplus of £350,000
Now we know why people want it privatised....it makes a profit.

Privatisation Update *th June 2005

It seems a little more that a rumour that the decision has been made to privatise Larnaca Marina by the end of 2001.The local spin orderlies have reported that Marina staff have already been given a years notice. We are still waiting and dreading!
Christmas Cheer

Well Christmas is upon us again and the usual round of parties and silly games days will soon be here giving us all the chance to eat, (too much) drink, (too much) and be merry !!!!!
Hopefully we'll have some incriminating photies to show here soon. Watch this space......
Any of you who have been in Larnaca marina for any length of time, will probably know Jean and Gerry Blackburn. They wish all old friends a Happy New Year,
And we have below a wonderful picture of them.

Update 2005. We are very sorry to inform any of you who do not already know, Jean was laid to rest in Cemetary at Dhekelia on February the 17th 2004. She is sorely missed.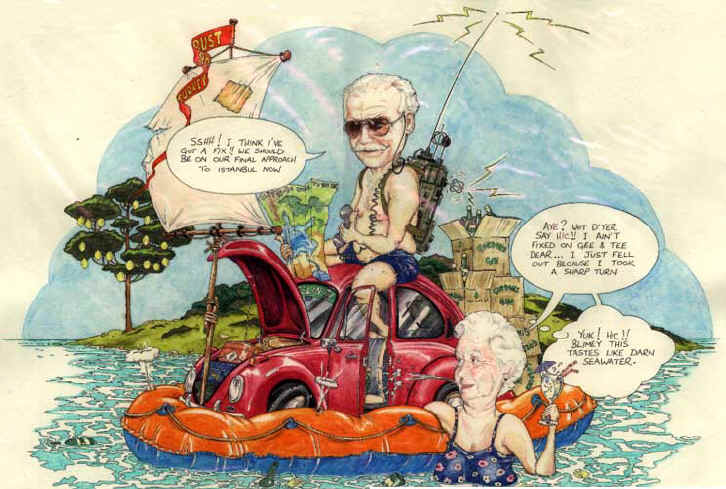 Salamandra Back To Cyprus And Then Off Again

16-11-00
Salamandra, who left Cyprus in September last year have returned back only to set straight off again heading for the Red Sea and beyond. This time Sonia and the kids have stayed behind on firm ground whilst Alex with his young crew, takes off on his latest adventure.
08-06-05
Well having been round the world, they are back again.
The kids have grown and great fun was had by all.
Birth Announcement
Monday the 15th of November


Larnaca marina has produced a baby....well actually it was Kim from Sume (clever girl). She has a beautiful daughter and we are publishing that photograph.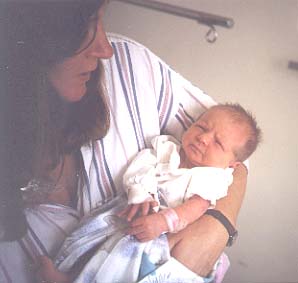 Samantha's Progress 16th November 2000
Our little Samantha is already proving herself to be an able sea-girl as she help's Mum and Dad deliver their yacht Sume to Denmark. The latest news was from the French canals where the Skovalund family reported that they were having a wonderful time on the French canals but would be back to Cyprus by Christmas.
John and Jeanette's 50th Wedding Anniversary
For all those that helped celebrate the Golden Wedding celebrations of John and Jeanette from Igo Ugo will surely agree that a good time was had by all. Having had to spend the whole day pretending that none of us had a clue that it was their big day it came as an immense relief when we could all let our hair down with shouts of "surprise " at the mock 'Welcome back Party' that had been so cunningly planned.
The New, New Larnaca Marina
Well it is now nearly the end of 2008 and we are still awaiting news of what is actually going to happen with Larnaca Marina. Is it going to be expanded, privatised , what is the plan?

Rumour has it that there were 3 tenders for the expansion along the seafront to the port (something which should have been done a long time ago) and that those tenders ranged from a staggering 500 million down to a mere 135 million. Allegedly the 135 million won the tender.